Our Company
Galatia Web Services, Inc. (www.galatia.com), a leading Silicon Valley Internet consulting firm, specializes in helping customers create a powerful database-driven web site or enhance their existing Internet presence. Using the latest, most powerful Internet platforms, we connect digital business processes to a web-centric presence so that the result is greater than the sum of its components.
Originally founded in 1995, Galatia has adapted to changing circumstances while maintaining a consistent corporate character and identity that places client satisfaction at the top of our priorities. Galatia is large enough to implement complex applications while small enough to provide personal service and accountability. At the end of 2001, several former Galatia employees formed a new entity, Galatia Web Services, Inc., to continue offering outstanding service to present and future clients at this location.
Web-based innovation, including e-commerce, progresses at such a rapid pace that there is a need for agile development methods and an experienced, business-savvy team of implementors. Galatia is able to understand business needs and quickly apply sound technical expertise in order to achieve highest possible levels of customer satisfaction.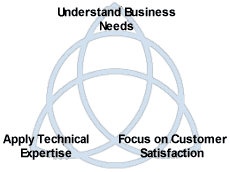 Applying our broad experience in the integration of technological and business drivers, we shorten implementation time and our client's time-to-market. Galatia thinks "outside the box," implementing creative solutions to complex needs not hindered by limited experience with a few platforms or development environments.
We help our clients connect disparate business elements to gain competitive benefits from the Internet in the following areas:
Business process and Internet-to-host legacy application integration
Back-end application design and development
Site structure, navigation, design, and development
Graphical user interface design
Internet marketing integration
Our Customers
Galatia has built a web-based convention planner and registrations system for one of the world's premier trade show owners; created a database-driven e-commerce site for a high-tech startup; and conceived and implemented a powerful, automated information aggregation, filtering and presentation system for a governmental information company. Some of our past and present clients are:
AEA Credit Union
The Angels' Forum
Capitol Web Works (LegWeb.com)
Chip Express Corporation
Cisco
C|NET
Crescendo Ventures
Irwin Home Equity
Irwin Mortgage
James.com
The Mortgage Mart
Neoforma
Paul Capital Partners
Perlegen Sciences
San Jose State University Continuing Education
Santa Clara Valley Science and Engineering Fair Association
SiGen
SOFTBANK
Stanford University
StateTrack.com
Symmorphix, Inc.
UCLA
United Way
Vello Corporation


Our Methodology
Galatia's phased approach to project implementation has evolved during six years' experience in complex Internet application development. We strive to deliver projects on time, on budget, and to meet or exceed client expectations. We strive for client satisfaction, reliable and maintainable systems, and long-term relationships.
Our work with a client begins by focusing on the business and technical drivers at work. This may be done informally and conversationaly, or may encompass multiple meetings leading to development of project specification documents, depending upon the size of the project being undertaken and the client's preferences.
Once the goals of the proposed project are well defined and understood, we can begin the actual development process. Galatia's development process is agile and iterative: as we specify, design, implement, and test project components, we conduct peer reviews and seek customer feedback; we then apply what we have learned to another cycle of work. In this way, we are able to refine the product quickly instead of producing reams of static documentation and an immutable end product based on early assumptions.
We believe in client involvement, and welcome client input and participation in the development process.
After building basic system elements, we rapidly Integrate module prototypes so that our clients may view interim results and provide feedback as the system evolves towards an integrated whole. Final steps involve careful testing and Verification of the entire system to ensure smooth Launch. An integrated launch plan may include: staff training, contingency planning, detailed transition and temporary parallel processing plans.
The end result of Galatia's agile development process is a smooth implementation meeting expectations and maximizing return on client investment.
Representative Skills
Significance

Skill Set

Languages

Ability to choose most appropriate language and/or seamlessly integrate with legacy application
Java including Applets, Servlets, and JSP's
C
C++
PHP
Perl
HTML, XML
Javascript


Databases

Experience with all popular databases. Seamless integration.
Oracle, MySQL, Sybase, Informix, SQL Server

Web/Application Servers

Objective choice of most appropriate platform. Seamless integration.
Apache
Tomcat
iPlanet (Sun) Enterprise
Cold Fusion


Development Environments

Rapid application development
Eclipse
GNU Emacs
Cold Fusion
Borland JBuilder


Operating Systems

Complex application development capability
Solaris, Linux;
Windows

Protocols

Create powerful, custom applications
TCP/IP
HTTP
SNMP

Distributed Objects/Web Services

Integration of legacy systems with Internet applications
XML-RPC
CORBA
RMI
Summary
Galatia delivers total client satisfaction.
Galatia's implementation model helps ensure timely and economical completion.
Using robust technologies and business savvy, Galatia adds Internet-based solutions to our clients' business processes.