Galatia: About Our People
Introducing Galatia's staff:
David Ecsery has an extensive background in software development and software project management. Before coming to Galatia in 1998, he worked at Lockheed Martin Missiles and Space for more than 10 years, serving as chief software engineer for the Sea Shadow experimental ship, project manager for software reengineering efforts on up to two-thirds of a million lines of code, and software architect, designer, and implementor for a variety of automated inspection tools for space flight hardware. It was also at Lockheed that David began developing data driven web-based applications, which followed naturally from his interest in the graphical user interface.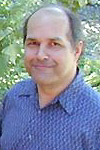 In the fall of 1998, David joined Galatia to lead the development of the StateTrack system; he also served as a senior technical advisor on several other Galatia projects prior to becoming CTO in 2000. In 2001, he became president of Galatia Web Services, Inc. His areas of technical strength include distributed systems, network programming, object oriented analysis and design, relational databases, Unix, and the C, PHP, Perl, Java, and Javascript programming languages.
David has a Master of Science degree in Computer Science from California State University, East Bay and a Bachelor of Music degree from San Francisco State University. In his spare time, David is a singer and choir director. He also enjoys hiking in the Sierra Nevada, especially in high country of Yosemite, Kings Canyon, and Sequoia National Parks. As the photo on the left suggests, he's no stranger to a bicycle (2006 Sequoia Century photo by PhotoCrazy).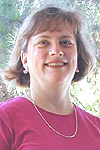 Ginny brings to this role a background as a Registered Nurse and a Marriage and Family Therapist. She has a B.S. in Nursing from Oregon Health Sciences University and an M.A. in Counseling Psychology from Santa Clara University. She maintains a part-time private practice as an MFT, and was previously a Pediatric Nurse at Stanford University Hospital and Packard Children's Hospital at Stanford.

A psychology graduate from Stanford University, Barbara received her master's degree in Information Science from the University of North Carolina at Chapel Hill, concentrating on studies in databases, user interface, telecommunications, and (then new) World Wide Web. Her career prior to graduate school included several years as a research assistant/data analyst for Stanford Psychology Department faculty, and a stint as a box office manager for a multi-theater performing arts festival, during which she computerized and automated previously manual box office procedures.
Barbara was the third employee to join Galatia. Here, she has worked on websites for Test Design, Chip Express, Stanford Housing and Dining Services, and the City of San Jose, as well as being primarily responsible for the design and implementation of large-scale database-driven web projects for Softbank, CNET, the UCLA Hypnosis Project, and StateTrack. Her expertise includes Oracle and Informix databases.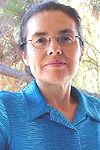 Amy moved to Silicon Valley from the California desert to attend Stanford University, where she graduated with a degree in Human Biology (an interdisciplinary science/social science major). She has also completed coursework in computer sciences at Foothill College, where she worked with another Galatian, Barbara, in the box office.
Amy joined Galatia in the spring of 2000 with a background in accounting and financial services. She comes to Galatia from the biotech industry, where she actually once charged someone for clones of diseased rat livers. Yes, they paid.
Jette grew up in Hawaii, graduated from Pepperdine University in Malibu with a degree in journalism and economics, and worked as a staff writer for a business magazine in Los Angeles until discovering that newspaper reporters are considered low on the social totem pole, below "scum of the earth." She then served on the district staff for a U.S. Congressman (NOTE: Member's name and party affiliation withheld), doing a little of everything.
After the Congressman lost his last election, Jette became a senior technical writer for a large California bank, producing a wide range of technical manuals. Her favorite story is writing a manual on "business resumption" — how to get the entire bank operating after a major disaster, such as an earthquake. Jette finished the manual's first draft and handed it in for revision, but she didn't get back any comments. Turns out the bank's executives were all busy using the manual, due to the 1992 Los Angeles riots over the Rodney King verdict, which occurred the day she finished writing the manual. "Timing is everything."

Jette then became an administrator for a new church in Palm Desert, where she set up the church administrative, accounting, and computer systems; organized large-scale events; and did everything except preach to cactus (she did lead weekly chapel services for male prison inmates infected with HIV). Then she got married to a Silicon Valley programmer (Scott) who proposed in a plane over Alcatraz; his employer moved them to New Jersey one week after the wedding. They drove cross-country and arrived during the weekly hurricane-related storm. Eventually, they moved back to Silicon Valley and ended up at Galatia. Here, Jette does a little of everything: administrative and advertising stuff, graphics, web pages, moving furniture, and keeping the staff supplied with caffeine. Motto: "Chocolate is a food group."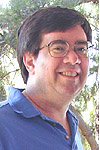 Scott has a B.S. degree in Computer Science from California State University at Northridge, where he specialized in languages. His areas of technical strength include network programming, e-commerce security, automated processing, relational databases, Unix, and NetBSD; also, the C, Perl, O'Caml, and Refine programming languages.
At Galatia, Scott worked on the StateTrack system; he wrote the programming that automatically updates the database with new legislative information each night. He also worked on the San Francisco Examiner project, enabling their website to automatically update every 15 minutes with satellite feed news.
Prior to Galatia, Scott worked at Lockheed-Martin for over 10 years; he worked on projects involving artificial intelligence and navigation for commercial satellites. In his spare time, he enjoys bicycling (preferably on steep mountains), snow-skiing, snorkeling, and hiking; he is also a private pilot.